About Me
Hello, World! My name is Alexander. I started buying/repairing/collecting Arcade Games when I was 14. When it comes to collecting arcade games, I have wanted to do it since I was... 8?
I am a Christian. I came to Christ in the second grade classroom at my school. (I think I was about 8.) I was baptized when I was 10 years old.
Becoming a better Christian man and growing up is hard, so prayer is always appreciated.
As time progressed, it became apparent to everyone that God has blessed me with a great interest and talent in the area of electrical engineering. I would say that I have an obscene lack of talent in art and athletics.
When I grow up, I want to be an electrical engineer. My parents encouraged me at a young age through many projects with different skill sets and disciplines. That is how I went from building an autonomous rover to a full-sized pinball machine among many other projects.
As for side hobbies, I want to have a basement filled with Electro-Mechanical pinball machines and the "really old black and white video games".
Unfortunately, collecting arcade games is a hobby that requires deep pockets.
I am able to fund my various hobbies because I am a mercenary capitalist. Simply put, my parents have declared war on our lawn. I have been hired into their ranks for a nice chunk of change. All I have to do, is mow down everything that sides with the lawn. I ride into battle with a automatic stringtrimmer and a heavy mower. I do look quite fearsome.
I have an account with the Vintage Arcade Preservation Society. Here is my VAPS entry.
I hope to eventually have an encyclopedic knowledge of how to repair arcade games like Andrew Welburn, while helping people get their games working and therefore being like Peter Davies.
My workroom: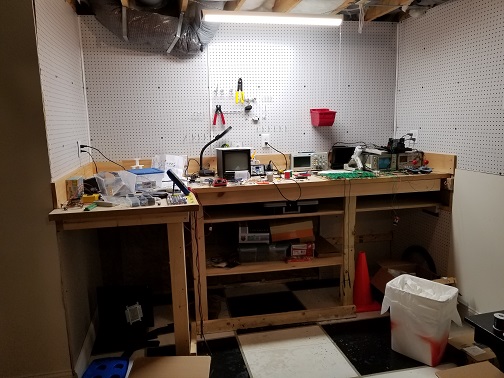 I work on all my projects in my workroom downstairs. My parents made sure that I had a place all to myself. Thanks, guys!
Whenever I settle in for the long haul, you will usually see me working on my next project, blasting Switchfoot and Michael W. Smith through the speakers on my boom box. Occasionally, I will sing along, but only when nobody is around. We all know I can't sing.
I also love Owl City, but I usually save that for the days when I can't focus, and I just need to listen to something funny / stupid. Same for the Minecraft parodies, which drive my parents crazy. :)
About My Website
This website was created with the intention of sharing repair logs and other arcade-related stuff with the world, as well as, serving as a future resume for me.
When I first started this website in 2013, I just wanted to have a place where I could put games that I made on the internet. However, none of them were very good, and I was just starting to explore the world of electrical engineering. When I built my pinball machine, I decided to ditch the games, even though I left them up at the time, and write about my Pinball Machine.
In 2018, it was time to update the website after 3 years of doing nothing with it. Finding content was easy, as I continued doing projects to put on my resume, and also started fixing those "really old black and white video games".
Why is my website named Kincaid Arcade, when my first name is Alexander? Because my middle name is Kincaid and it happens to rhyme with arcade.
Hence, Kincaid Arcade was born.
When E-Mailing me:
You are able to e-mail me through this website. Feel free to, but please follow these general guidelines:
Feel free to:
Ask Questions
Send Comments
Send Suggestions / Help
DO NOT:
Ask if any of my games are for sale, because they are not.
Send me a one-line e-mail without stating who you are. It will just go to my spam folder.
My e-mail is alexander "at" kincaidarcade "dot" com
Terms Of Use
Can we be real here? The Terms Of Use and Privacy Policy does not have to be longer than War and Peace to be effective. Let me prove it:
You are allowed to use my website, but keep this in mind:
All content on my website belongs to me, except where noted.
You will not reproduce or redistribute any of my intellectual property (like schematics I designed) if it gains you money in any way, like through advertisments.
You may reproduce short blurbs, given that you provide full, clear credit to me, Alexander of Kincaid Arcade, with a link to my website.
All trademarks, names, Intellectual Property, etc. goes to their original owners. (Like ATARI or QWAK! or ANTI-AIRCRAFT etc.)
In using ANY of my redrawn schematics, you agree to ONLY use them for OPERATION, MAINTENANCE, AND SERVICE of your arcade game.
Just because the methods I described in various portions of my website worked for me doesn't mean they'll work for you. If YOU break anything, it is YOUR fault.
While I doubt I'll need to, I reserve the right to make changes to these policies without notifying you.
All rights reserved.
The Terms of Use was last updated 1/1/2020
I made some changes.
Privacy Policy
I collect one piece of information: how many times my webpages are opened. It will be used as I see fit.
The Privacy Policy was last updated 6/18/2018
This page was last updated 11/3/2018